"I know there are lots of vegan beauty products but can you get everything vegan and plastic free?"
This was a question I was sent this week on Instagram. Great news is my answer was yes, you can get pretty much everything in your beauty routine vegan and (almost) plastic free. I even have an eco beauty essentials kit with plastic free accessories available over on the store for £11.95. My only sticking point is sun screen but you can check out my sunscreen reviews here if you need some to decide what suits you best but everything else I can come close to a fully plastic free swap
As a vegan who cares for the environment my products need to be free of animal products and if possible plastic free. It has taken me time and research but I have pretty much nailed a great routine in my bathroom of plastic free essentials. Rather than sending you to find your own, let's look at what I am currently using:
---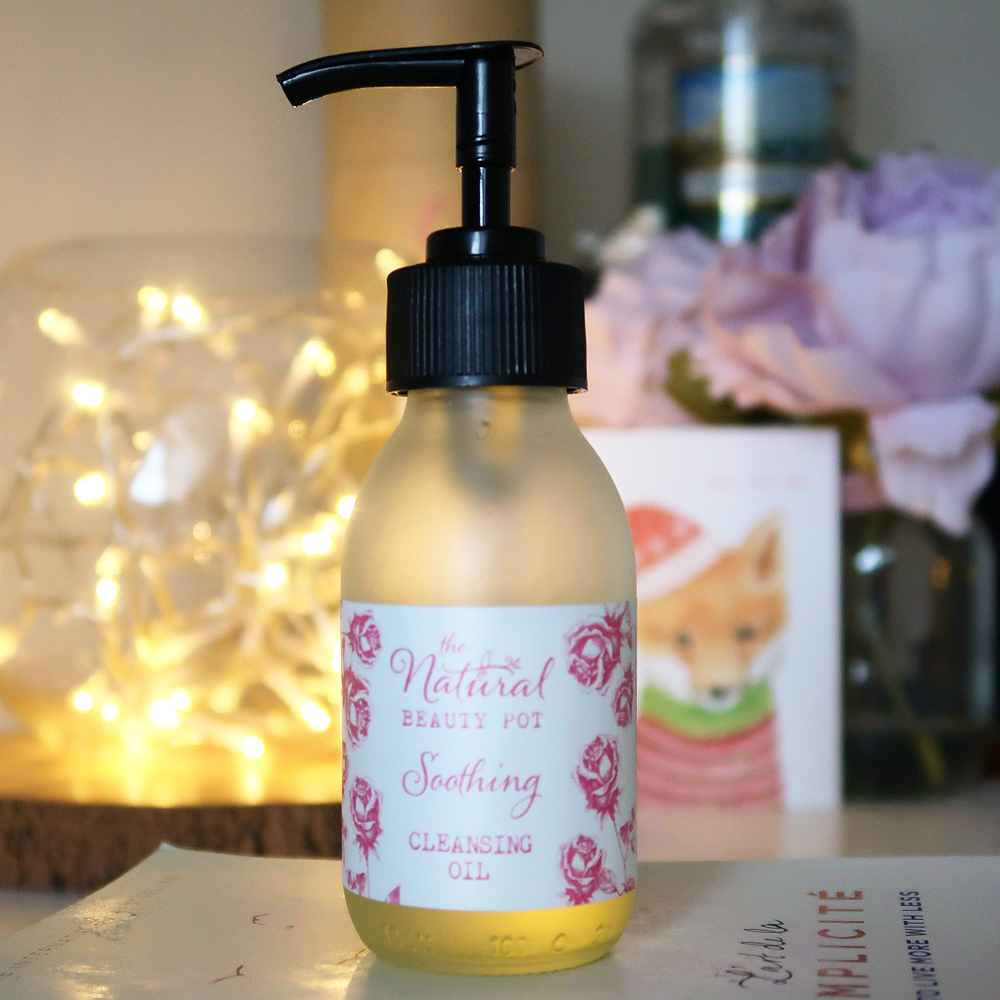 Soothing Cleansing Oil £16 – The Natural Beauty Pot.
I recommend this to so many people because I love it. About 2 years ago I was gifted this product and it just ticked all my boxes. Cruelty free, vegan friendly, removes make-up well, leaves my skin soft and also comes in a glass bottle. Yes there is a plastic pump BUT you keep the pump and just buy replacement bottles of product. That for me is an excellent solution to avoid the plastic being single use. My pump has moved onto refills and will be moving onto another refill over winter when I buy it again. In all honestly though, I don't think you can go wrong with an oil cleanser regardless of your skin type so if you haven't tried one I highly recommend you do.
A more budget friendly option would be the Chamomile cleansing balm from The Body Shop at £11 which does an acceptable job. Though in my opinion The Natural Beauty Pot cleanser is much better and worth the extra spend if you can stretch to it.
You can use reuseable cotton rounds to remove these products – available in the shop in a pack of 10 for £11 or as part of the eco starter kit for £11.95.
---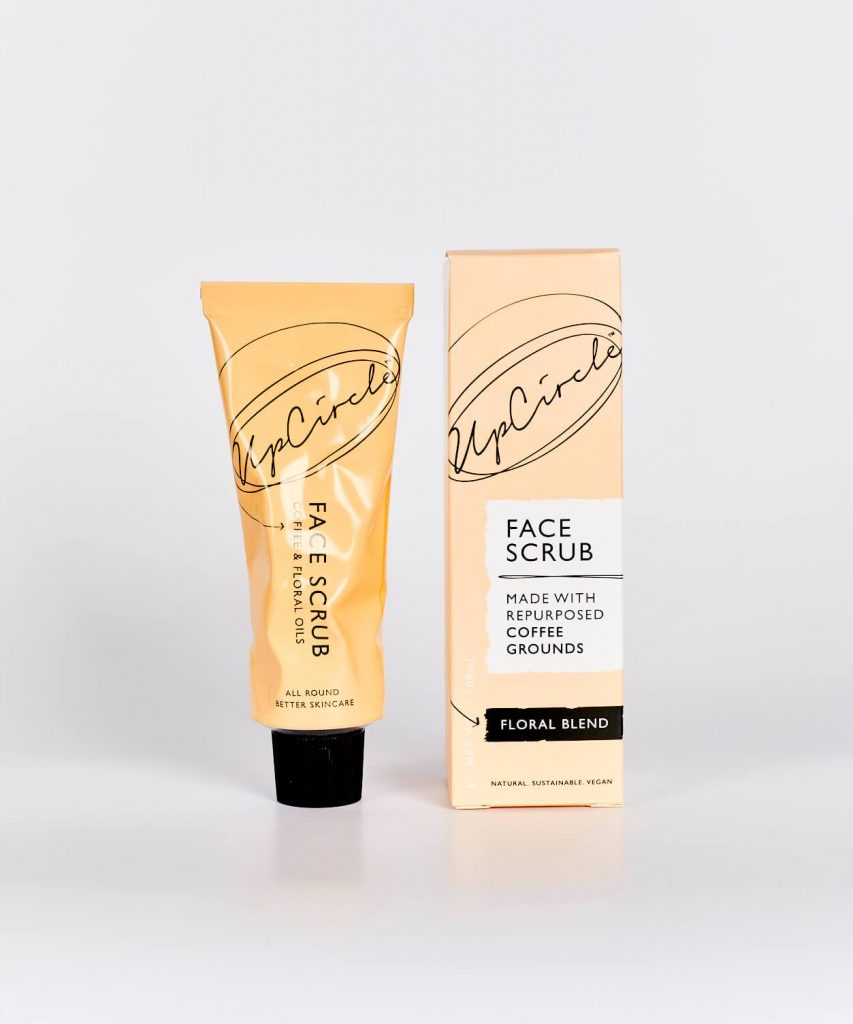 Coffee Face Scrub £12.99 – UpCircle*
Twice a week I will give my face a scrub to prevent any dry skin building up. This one is made from what would otherwise be food waste! I find that incredible in itself but the fact it also comes in a metal tube which can be recycled is even better. Plastic cap but I can forgive them that. This particular scrub has tea tree which is fab for preventing break outs. It is also one of the cheaper scrubs on the market without plastic.
If you want to avoid any packaging, check out the loofah facial scrub pads in the shop available in a set of 5 for £3.50 or in the eco starter kid for £11.95
---
Hyaluronic Booster Serum £28 – Green People
Hyaluronic is another thing I have kept on my bathroom shelves for many years. It's a fabulous ingredient to boost the hydration of our skin and helps to keep the skin appearance plump with minimised lines and wrinkles. This particular serum is very light to apply and sinks in quickly. I like that it is natural ingredients and fragrance free. The dropper does have a plastic a plastic cap but again this is minimal in comparison to other brands.
This product is a little spendy and a cheaper alternative would be The Ordinary Hyaluronic Acid which can be picked up for around £5 and also comes in a glass bottle. Slightly heavier on application but the results are just as good.
---
Rosehip and jojoba moisturiser, fragrance free £10 – Essential Creams
A moisturiser in a simple glass jar with a metal lid, what more could we ask for? I will be honest and say it did come in an organza bag which I would rather it not have but if you ask them to skip this when you order, the moisturiser would then be completely plastic free. I love that this is made by a small maker in Cornwall, they actually have a few options available in their moisturisers to pick the best fit for your own skin.
---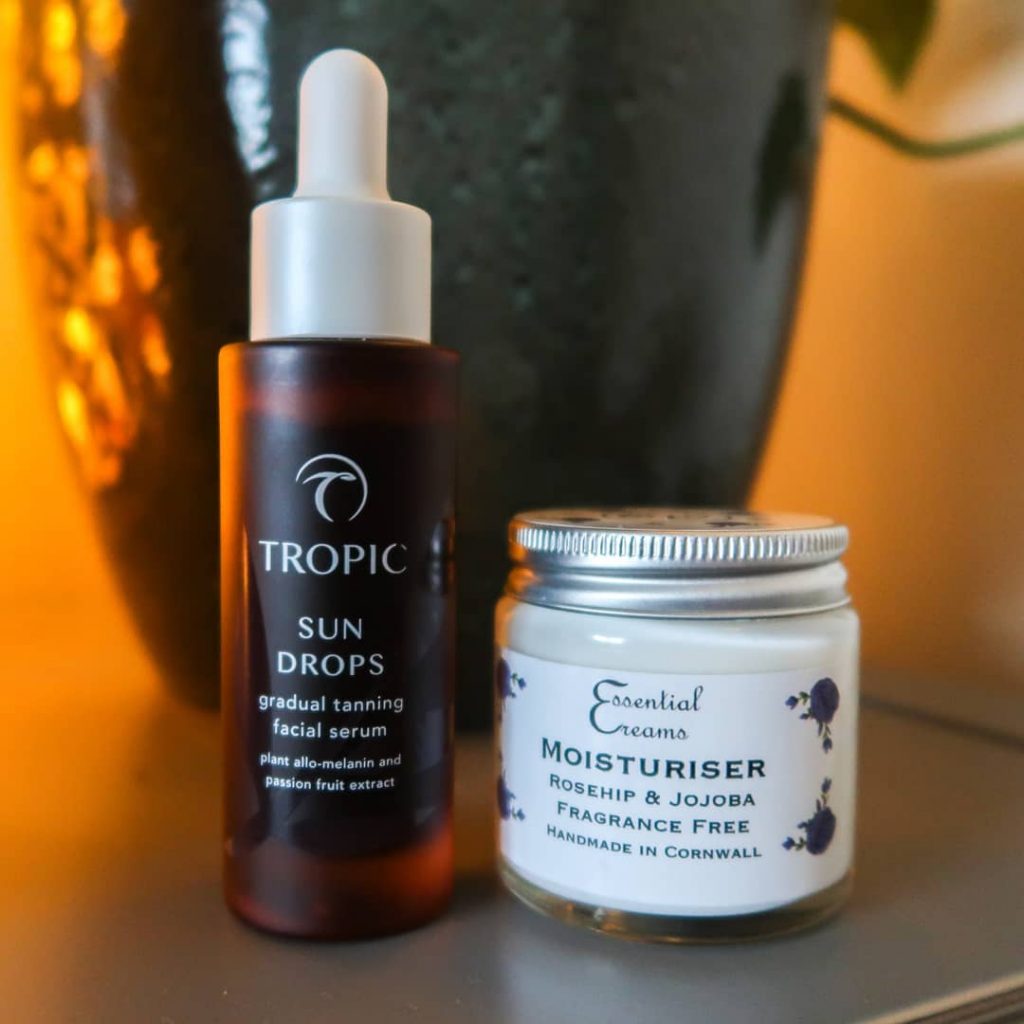 I was always a big fan of some gradual tan. A few times a week I like to add a little gradual tan into my moisturiser for a bit of a glow. The brands I had previously been using came in plastic tubes but this is a great option to reduce the plastic footprint of facial tanning. These drops come in a glass bottle and while your first bottle has a plastic dropper, you go on to buy refill bottles and reuse the dropper over and over.
In the evening my routine changes a little. I still use the same cleanser to start as it does a great job of removing my make-up.
---
Advanced retinoid 2% £8 – The Ordinary
Retinol is fab to reduce the signs of ageing and promote cell turnover. Also great for people suffering from break outs. I apply this most evenings but remember if you are using any retinoids you MUST use sunscreen as your skin will be extra sensitive to it's effects (I recommend wearing sunscreen even if you don't use retinoids). As with their hyaluronic, the cap is plastic but the bottle is glass.
---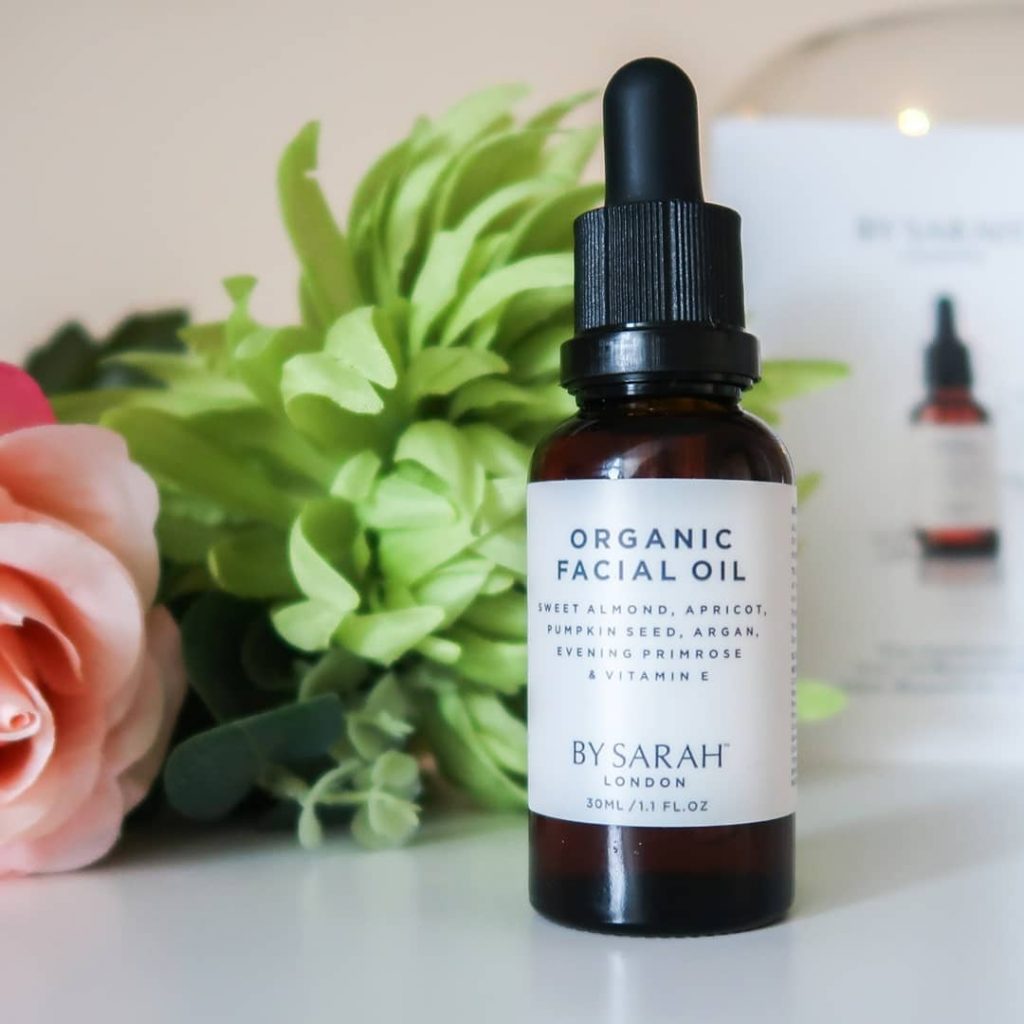 Organic Facial Oil £33 – By Sarah London
Facial oils can feel a bit heavy for during the day but I love them at night. That said the By Sarah London facial oil isn't as heavy as I expected and does sink in really well, my skin feels well hydrated when I wake up in the morning. It's another glass bottle with a plastic lid so still a little room for improvement but it's a darn good start.
---
So there we have it, the key products in my skincare routine at the moment that are all suitable for vegans and will help you reduce your plastic footprint in the bathroom.
---
Other Articles You Might Love