Sunscreen is one of those things we should all be using to protect our skin on a daily basis from sun damage and those pesky signs of ageing. Regularly when I'm advising people to wear sunscreen people ask "yeah but where can you get a cruelty free one?" and I tell them cruelty free is actually REALLY easy to find. It's my other list of important things I want in sunscreen that are harder.
The things I think about when buying sunscreen are that I want them to be vegan friendly, cruelty free, for them not to be sticky or leave my skin looking chalky and white. The more I have been looking into them I also want to find brands that are reef safe and if at all possible plastic free!
With most of my list its a very black and white yes or no but "Reef safe" is an unregulated statement and can be tricky to know just what we are looking for – so I asked Grace, my super handy Marine Biologist friend! She advised that 20,000 tons of sunscreen is released into marine systems annually. Crazy! If you go to Hawaii they have banned oxybenzone and octinoxate and Grace said we need to avoid Benzophenone and Oxinoxate which thankfully are the two that most brands claiming to be reed safe avoid. Further to that Grace mentioned that particles need to be non nano to be reef safe. The reason being that when the particles are non nano they sit on the floor of the ocean rather than breaking down and being absorbed by marine life. All very confusing and complicated for theaverage Joe like you and I trying to find a good blooming sunscreen that is kind to the environment and animals.
But armed with my short list of desires, let's see what's on the market.
Ultrasun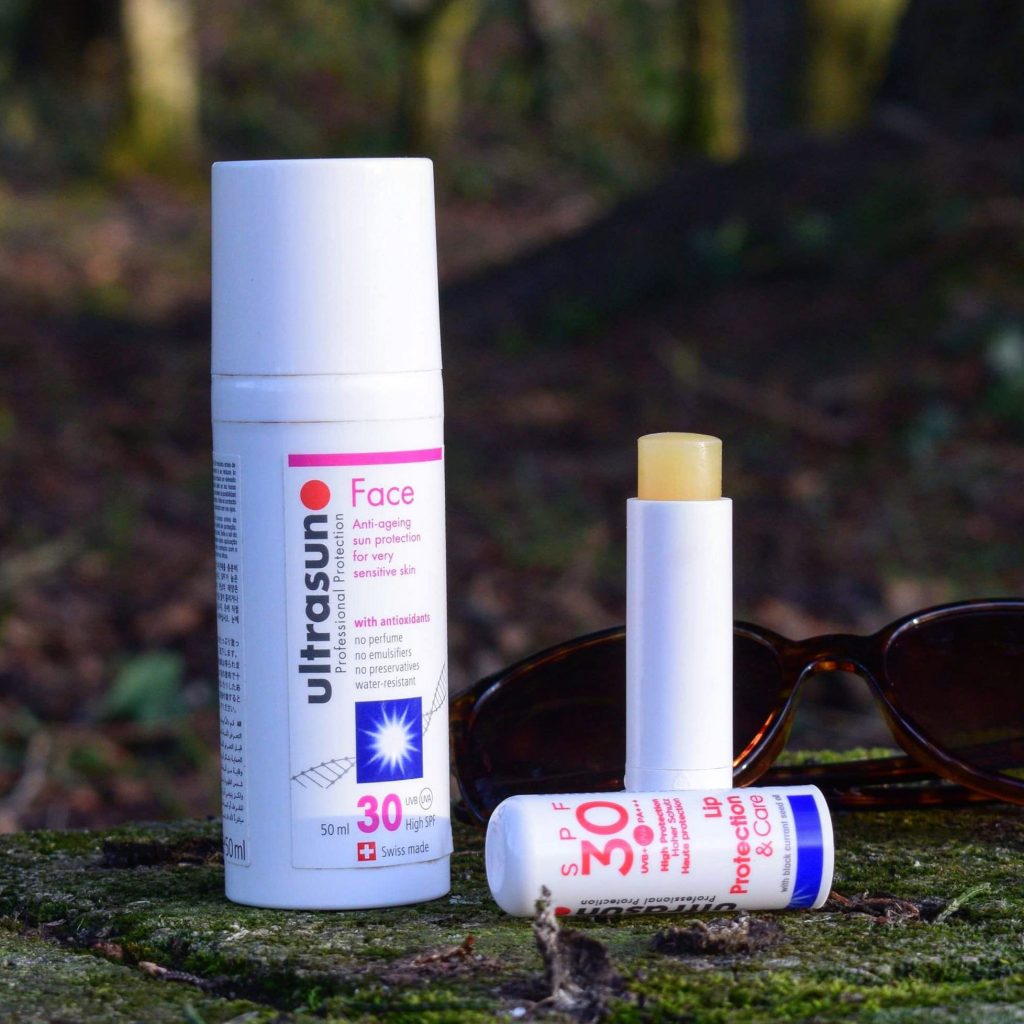 I make it no secret that I love Ultrasun and I have used their facial SPF on the daily for years. It isn't the cheapest but it does dry in with a lovely matte finish making it so easy to apply my make-up over the top.
Ultrasun provide a great range to cover all bases when it comes to SPF and even do a range of SPF with "Glimmer" for those of us who like to shine. If you have delicate skin, I know you have to worry that little bit more about sun protection but this one is also a winner for you as they have products that are especially good for sensitive skin. Their range has no perfumes, no preservatives and a dry touch technology to stop you feeling greasy.
I tend to buy my Ultrasun in M&S or via QVC but there are many places stocking it these days so feel free to have a google.
Vegan, cruelty free, reef safe, non sticky and no white residue. From £19
Ren – Clean Screen SPF
Ren designed their SPF for daily use and as such it's great for under makerup. No white residue on your face and no tacky feel because it drys matte. This is a big win for me especially and although they are not plastic free, they have tried really hard with their packaging to reduce the virgin plastics. The tube is currently 50% recycled plastic and the cap is 100% recycled.
Cruelty free (Non cruelty free parent company), reef safe. Prices from £32
Pixi Sun Mist
Pixi aren't exactly well known for their sunscreen as the range is limited but they do have this great product for spraying under or over your make-up.
With our face being exposed to the elements more than the rest of our body I can't emphasize enough how important it is to get SPF on our faces daily. Sometimes your make-up or moisturiser will have an SPF built in but I would rather my moisturiser do what I buy it to do – moisturise, so I put mine on as a separate stage. I tend to give my face a few minutes for my moisturiser to sink in before adding SPF and then another minute or so to be sure it is dry before I apply makeup.
The Pixi range is available in M&S and on their website.
Vegan, cruelty free, no white residue, not sticky. Prices from £18
Solait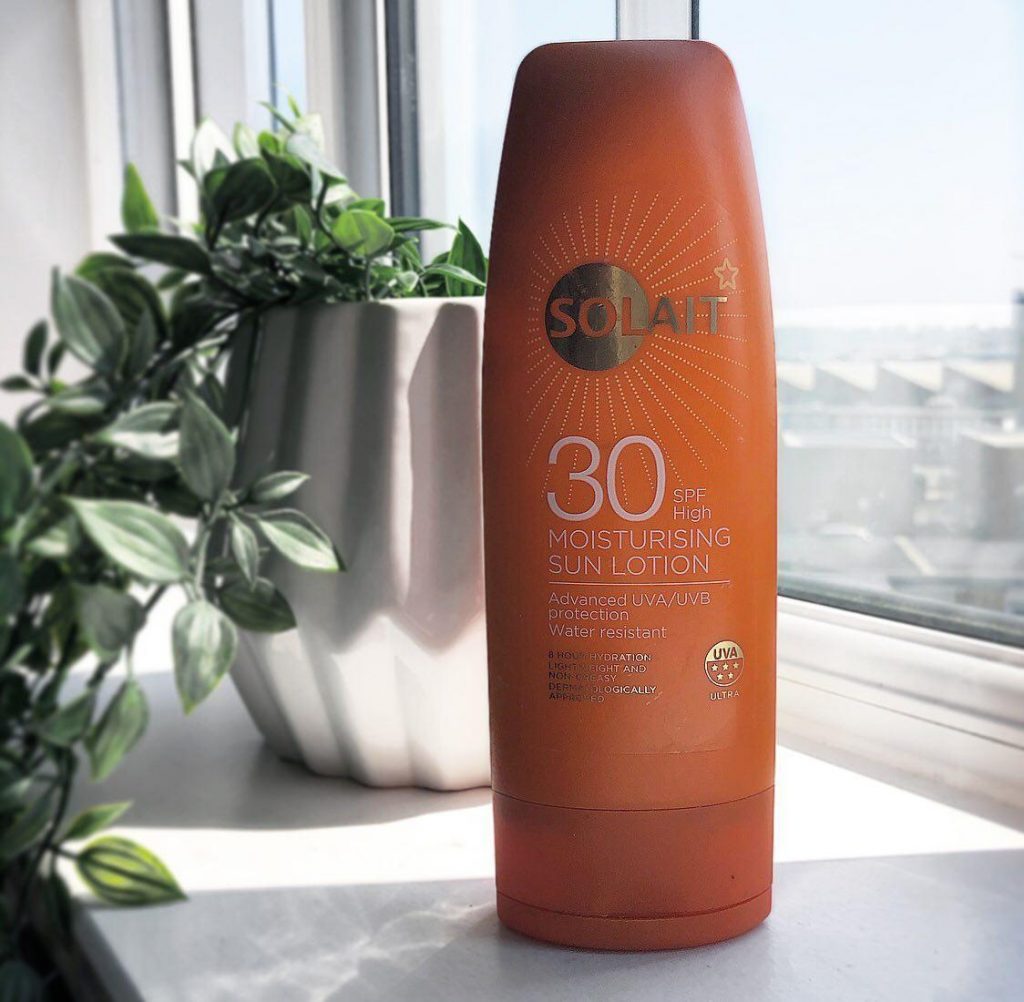 Let's hear it for Superdrug! Superdrug is a store who offer cruelty free products by the bucket load as their own brand products are all 100% cruelty free.
With Superdrug being a high street store that is accessible to most of us and with a price point that is pretty pocket friendly, I can imagine many of us will be wearing this over the summer. I know my kids will be wearing it for sure! My kids always seem to use so much more sunscreen than adults. Between their sports days, playing out at nursery and those days at the beach when they are running around all day refusing to keep their sun hats on, I end up going through loads of it as there are 3 kids in my house. While there are no sports days this year, we will still need to keep the kids protected in the garden and I was over the moon when Superdrug confirmed this product is reef safe.
You can check out the Solait range in store or on their website.
Vegan, Cruelty free, no white residue, reef safe. Prices from £2.50
Amazinc!
The only plastic free option I can find that seems to be rated well. Packaged in card or tin they have come up with easy ways to avoid plastic and that's something to be celebrated.
Vegan, cruelty free, reef safe and tin or cardboard packaging. Prices start at £10.50
Alba Botanica
Another winner for those with sensitive skin, this one can be a little harder to find than most but at under £10 it's a great price to use on the whole family. Pitched as good for sensitive skin and reef safe it ticks a few of the basic boxes we all seek. It does however have a white cast on the skin (which some claim you can rub in if you massage a little longer) and a little heavier feeling.
Vegan, Cruelty free, reef safe. Costs £8.99
Organii Everyday Organics
If organic ingredients excite you then Organii Everyday Organics might be right up your street with their range of sunscreens. Both fragrance and paraben free, they recommend their products for sensitive skin including babies. They also come with the advantage of having a non whitening formula that doesn't leave residue on the skin.
Vegan, Cruelty Free, Reef Safe, No white residue and non sticky. Prices from £14.95
Green People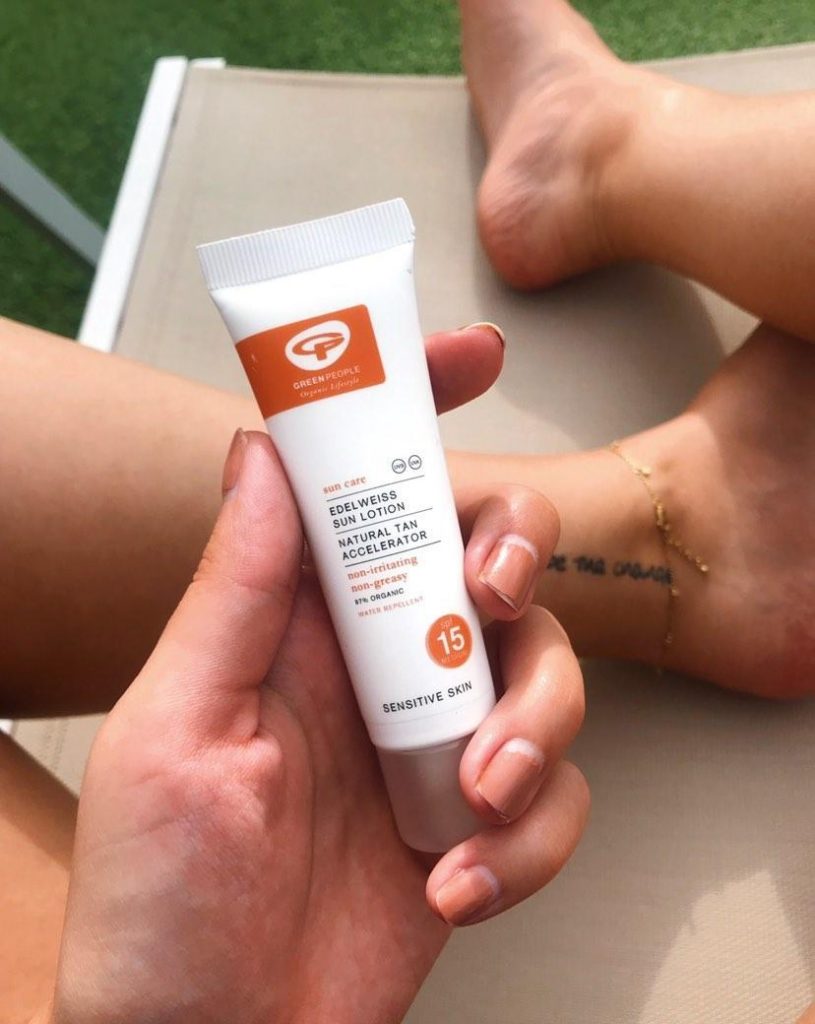 Green People are a brand that try hard and so I will give them a mention although their only vegan SPF is a factor 15 which isn't anywhere near the level of protection I like to apply. They do have vegetarian friendly options for higher factors. They have also opted for sugar cane derived packaging which is a good attempt to avoid traditional plastic however I fear most of it will end up in landfill due to confused customers not knowing how to recycle it. I was planning on giving their SPF a try but got a lot of feedback on instagram that the SPF is quite white when applying and heavy. Great for sensitive skin but just not for me – that doesn't mean it wouldn't be for you though.
Cruelty Free, Vegan options, reef safe, sugar cane packaging. Price £23
Pai
Possibly the most expensive option I have put on the list but Pai have a reputation for making great quality products and their British Summer Time SPF is rated highly amongst their followers. This sunscreen is a great option for people with sensitive skin
Vegan, Cruelty Free, reef safe, non sticky. Price £32
The Body Shop
A popular high street store for all cruelty free and vegan skincare lovers. Their Skin Protection Multi-action Face Mist is an SPF 30. Reviews say that it drys on matte and no white residue however lots of people comment on the strong alcoholic smell from the product which might be a problem for some folk. Remember you can also return all beauty tubes and bottles to your local Body Shop for their recycling scheme with Terracycle.
Vegan, Cruelty Free, non sticky, no white residue. Prices from £18
Skinnies
These guys are run by a husband and wife team and Martha is herself a vegan and an environmental engineer. With that said, this product obviously was going to fall into the essential Vegan and Cruelty Free bracket. The clever part of their product range is that it is a waterless gen which rubs into the skin clear and adapts to our own skin colour. The guys pointed out to me that they have a waterless formula because some sunscreens are 50 – 70% water content and so we use more for each application. With Skinnies we only need a pea size amount to cover our face and neck daily. Their packaging is derived from sugar cane to help them step away from plastic and the black bottles of sunscreen are also reef safe. They are new to the UK market and I have to say a lovely bunch to chat to so do check them out!
Vegan, Cruelty Free, Reef Safe option, no white residue. Prices from £6.95
Coola
Another great brand brought to my attention are Coola who do up to SPF 70! I wasn't even aware you could get such a high factor so this is amazing for anyone who burns easily or is out in the sun for long periods of time. It is a chemical sunscreen with a high % of organic ingredients that won't leave any white patches. It is also unscented and classed as reef safe. You can buy it in either a plastic tube or a spray can.
Vegan, Cruelty Free, reef safe, non sticky, no white residue. Prices from £22
Tropic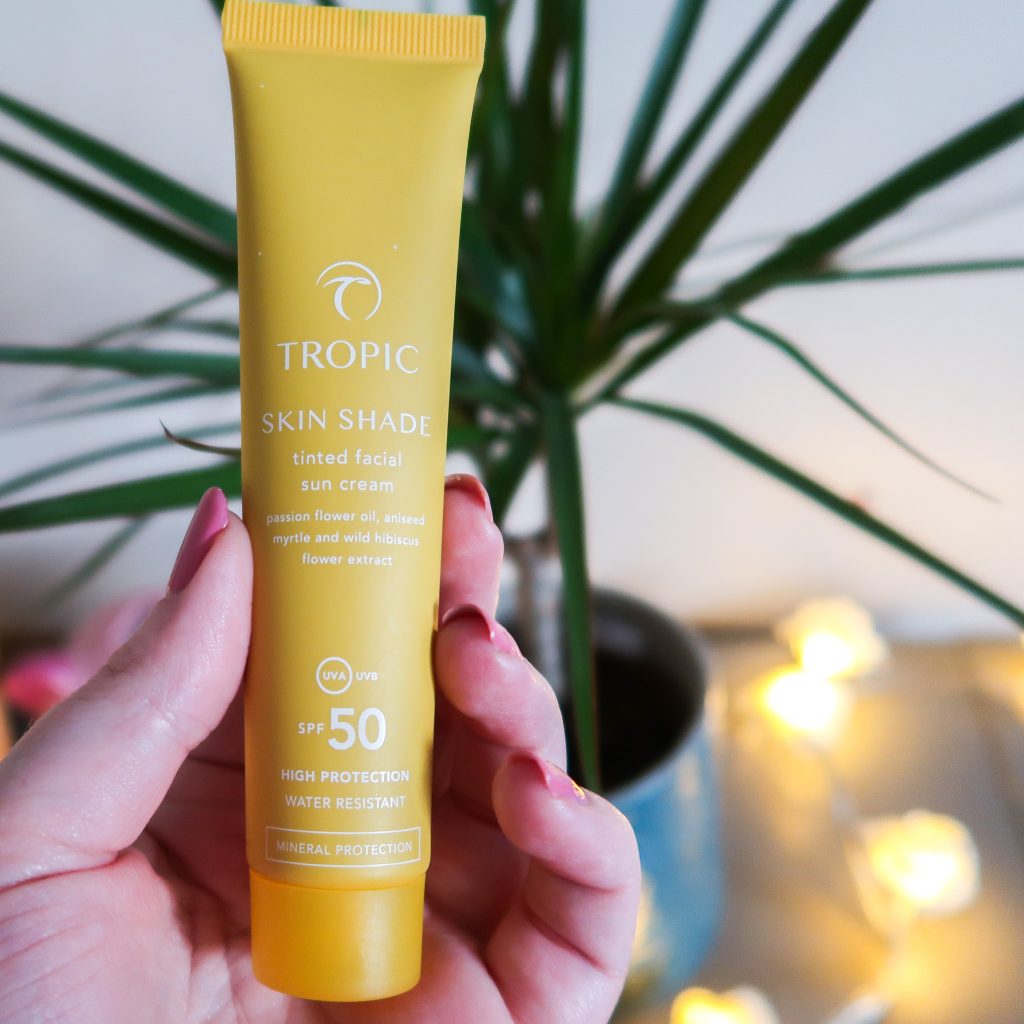 Okay, I confess this is one of my new favorites. Again, still with the plastic packaging but they are a carbon neutral company so offset the emissions to create their products. The ingredients are natural, vegan friendly and the whole brand is cruelty free. I'm not sure why it took me so long to try them out? They have a non tinted Skin Shade SPF and a Tinted Skin Shade. The tinted one is a little darker than I am even in the light to medium shade (I am proper Irish with the pale skin factor) but the non tinted one is great for avoiding a white residue on the skin and acts as a primer for make-up too! Winner.
Vegan, Cruelty free, reef safe, non sticky, no white residue. Prices from £10
Weleda
Designed to nourish the skin with organic sunflower oil, the Edelweiss Sunscreen Lotion by Weleda comes in an SPF 30 or 50. Proudly stating they only use non nano ingredients, this product is also reef safe. It is however very thick and does leave a white residue on the skin.
Vegan, Cruelty Free, reef safe. Prices from £16.95
Jason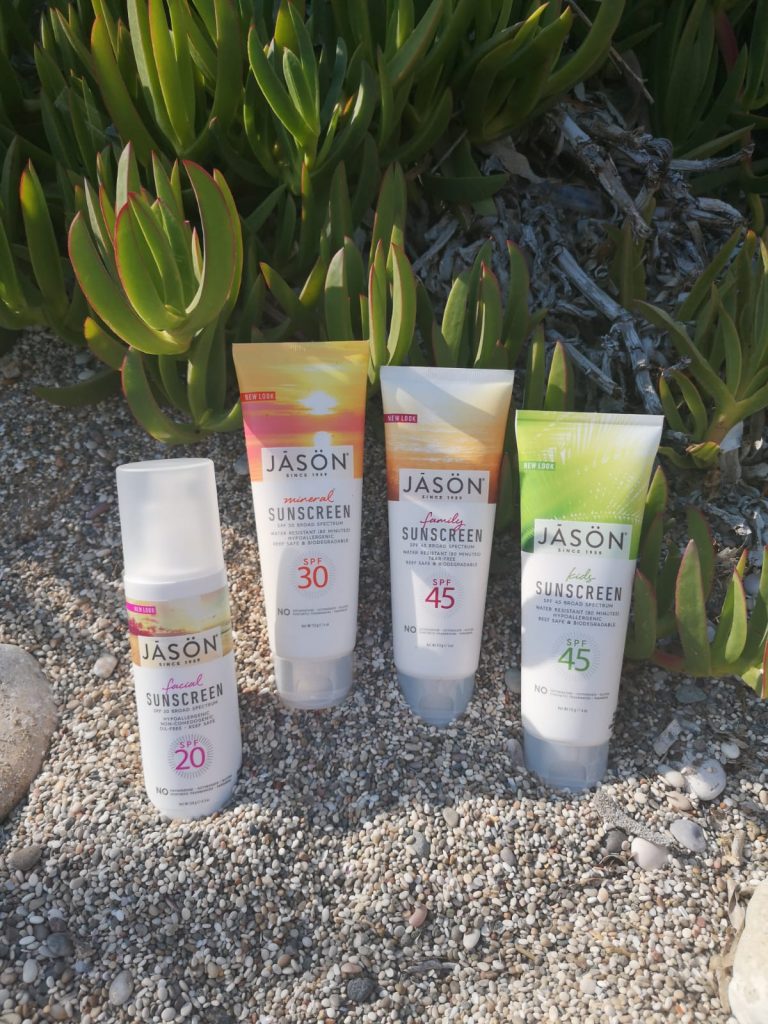 Jason came highly recommended to me from a friend with super sensitive skin. These guys don't offer just sunscreen, they offer a full range of products with the ethos of using safe, gentle and effective ingredients. They also got back to me to confirm their sunscreen is biodegradable and reef safe alongside being suitable for vegans and cruelty free beauty lovers.
Vegan, Cruelty Free, Reef Safe. Prices from £12.95
Evolve Beauty
I love Evolve Beauty products, they are always naturally based and I haven't tried a product I haven't loved but my pet hate is they are so close to plastic free it hurts! They use plastic lids on their glass jars. While I haven't tried their SPF yet, the brand is fully vegan and cruelty free and they make products in small batches to ensure the quality standards are high.
Vegan, Cruelty free, reef safe, glass jar but plastic lids. Price £28
Purito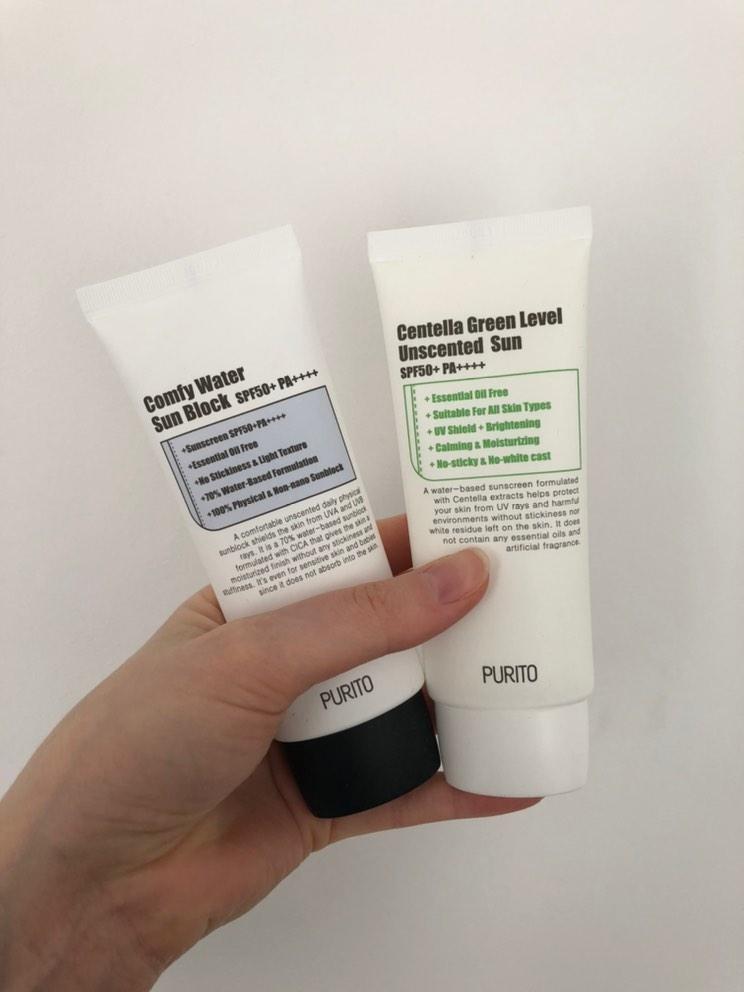 A totally new brand to me. Martacanga mentioned it to me and it stacks up impressively. As it is a chemical sunscreen it enables us to apply makeup over it and there is no white cast from the product. They are also free of fragrance and parabens making the product less likely to irritate anyone with sensitive skin.
Vegan, Cruelty free, no white residue, non sticky and reef safe. Prices from £16
SunSmart
My final suggestion for your sunscreen is the M&S own brand Sun Smart. All these cruelty free own brands show that stores really are picking up on the fact that the cruelty free market IS important to get into. We are an ever growing group of people demanding cruelty free products every time we vote with our money and refuse to buy from brands who are still testing on animals when it clearly isn't needed.
As with Superdrug and Aldi, M&S own brand beauty products are all cruelty free and with them stocking so many other cruelty free brands alongside their own, it really is a haven for cruelty free shoppers to flock to.
You can pick this up in any Marks and Spencers store or via their website.
Vegan, Cruelty free, no white residue. Prices from £3.50
Have I missed any of your favorite cruelty free and vegan suncare brands? Feel free to comment below to let us know of other suncare ranges we should be checking out.
__________
Other articles you may enjoy: