Tampons have had some clever marketing in the past and now they give people this notion that they are less problematic than pads. They have less plastic and that can only be good right? Yes and no. The fact remains that if a woman uses over 11,000 single use period items in her lifetime, no single use option is sustainable. Further to this, 50% of women admit to flushing their period products down the toilet, meaning 1.5 – 2 billion single use period products are flushed down the loo each year in the UK alone which causes masses of problems. Bonkers!
I make no secret of the fact that I use a Mooncup, have done for over 16 years. I genuinely can't imagine replacing it with anything else. I do occasionally back it up with period pants of reusable pads if I am going to be away from the home and might find it tricky to empty but on the whole it's super reliable and doesn't let me down. My first cup lasted me 10 years before I replaced it and I imagine the current one will see me through until I am done with periods.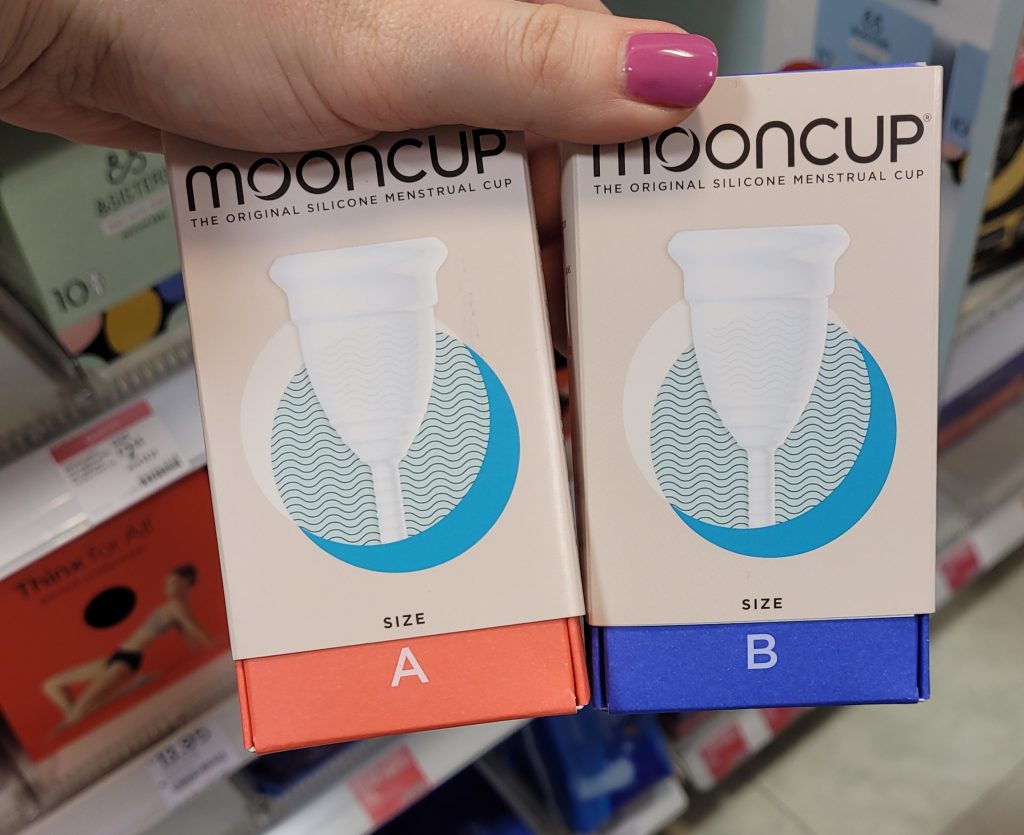 That said, I have been lucky to find a cup that suited me right away and that isn't always the case for everyone. Due to us all being differing shapes and sizes, and having different flows, not all cups suit everyone. I strongly recommend people do the quiz over at https://putacupinit.com/quiz/ to find one which will suit your body and your lifestyle the best. This minimises the chance of purchasing one and then discovering it's the wrong shape/size for your needs.
The great news is that a greater variety of cups seem to be more accessible to buy on the highstreet than period pants with prices ranging from £8.50 up to £25. Choosing the right cup will save you a lot of money in the long run as you only need 1 and they last for many years. With a cup lasting around 10 years that means they work out at only 85p – £2.50 per year (depending on the price of the cup you buy). They are also super easy to clean as you can rinse as you empty and reuse during your cycle and then boil it at the end of your period to sanitise it ready for the next month.
The easiest places to buy your cup:
Boots
Mooncup
Tampax (I was shocked spotting this!)
My Viv
Boots own brand (currently reduced to £8.50)
Superdrug
Luna (their ownbrand, currently BOGOF at £14.99)
Intimina
Organicup
Loovara
TOTM
Holland and Barrett
Mooncup
Organicup
Intimina
Supermarkets are hit and miss. In theory lots of them stock cups, just not in every branch so while you can check them out when you do your next grocery shop, don't be too shocked if you can't spot them on the shelves (I couldn't see any on the shelves even in my local Tesco Extra)
Some online brands that are also worthy of checking out based on your feedback are Saalt and DivaCup.
How to save even more on your period cup
Boots, Superdrug and Holland and Barrett are all on TopCashback. This means you can currently get between 5% and 18% cashback depending on which store you are purchasing your period cup from. If you arent signed up with TopCashback yet, use my referral link to get a bonus £10 in your account when you sign up.
If you are buying from Boots, be sure to download the Airtime Rewards app and link it to your bank card. This app will passively collect 5% cashback on any spends in Boots to take off your mobile phone bill. Use my code to get a bonus when you sign up "A8HEQD8F".
For transparency, using my codes will benefit you but I want to make you aware that I also get a reward for sharing these apps too.