This is a guest post from Kirsty of Kirstys Creative Crafts . I fell in love with this project when I spotted it on Facebook and thought you guys would love it too.
_________

One of my great loves in life is to craft, I find it therapeutic, relaxing and rewarding, especially if I have found an old object I am able to reuse and make into something beautiful.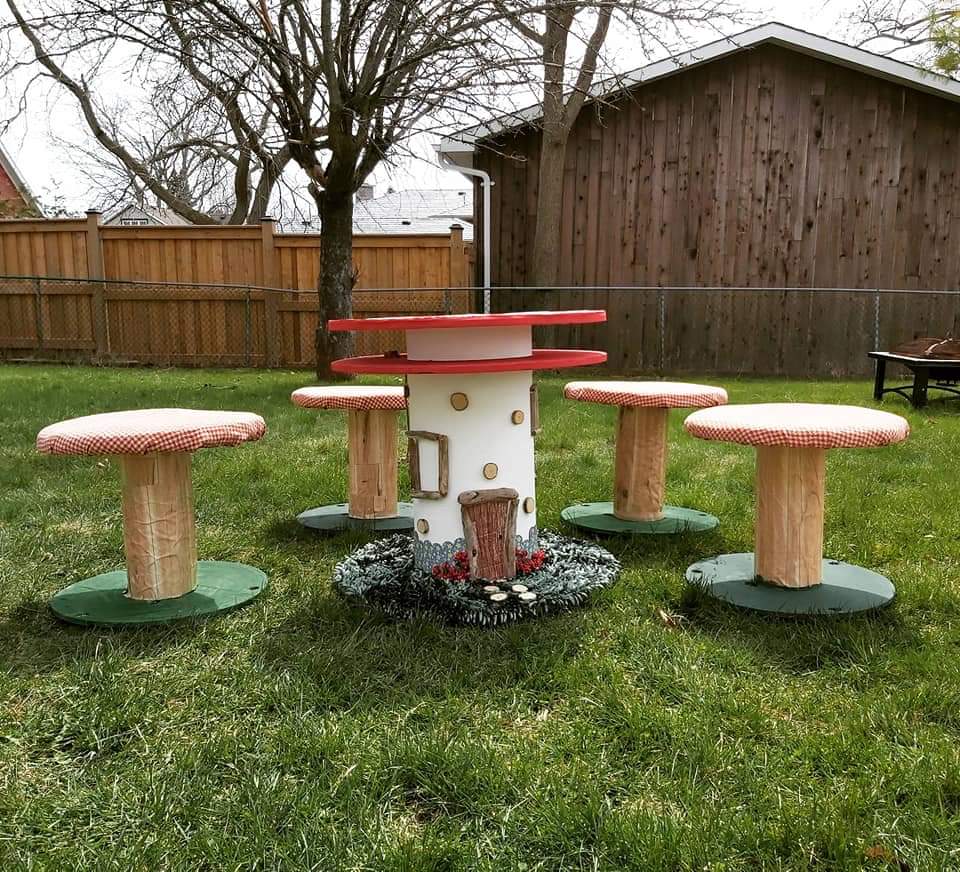 I am lucky that my husband works in construction and the build he is working on has recently had electricians onsite. What do electricians use?… that's right reams and reams of cable. The cable comes on all sizes of cable reel. I asked my husband if he wouldn't mind collecting as many reels as he could and being the lovely guy he is, he obliged and within a week I had a porch full of reels! By collecting the reels from the site it saved them going to waste.

I knew exactly what I wanted to create, I work as an early years educator and I wanted to create a really fun edition to our playground, it can also be brought inside and used there too. I wanted to incorporate an enchanted forest feeling to them, so I decided to create toadstools for a bit of whimsical fun. I took 4 of the smalI reels to use as stools and a large reel for the
table. Then I raided my fabric box, I knew I had the perfect fabric for the stools that I had previously bought for a few dollars at the thrift store.
Who doesn't love a good rummage through the thrift store to buy previously loved items and be able to repurpose them. The fabric was a red and white checkered pattern. I laid the fabric on the floor and placed one of the small reels on top. I use the base as a template leaving an extra 4 inches all the way around to enable me to have enough fabric to stick the edges to the underside of the stool. I had some foam left over from a previous project which I then use to make stool cushions, so they would be nice and soft to sit on. I once again used the stool to make a template on the foam this time getting an exact measurement, I then cut them out using my craft knife. I then used my trusty glue gun, (my favourite crafting tool) and glued the stool top then added the foam on top and pressed firmly til it was stuck down. To create the fabric part I upturned the stool onto the cut out fabric and pulled the fabric round the bottom fixing into place with my glue gun and my staple gun to make sure it was secure. For the base I used poster
paints from my craft box and painted 3 coats of green to resemble grass.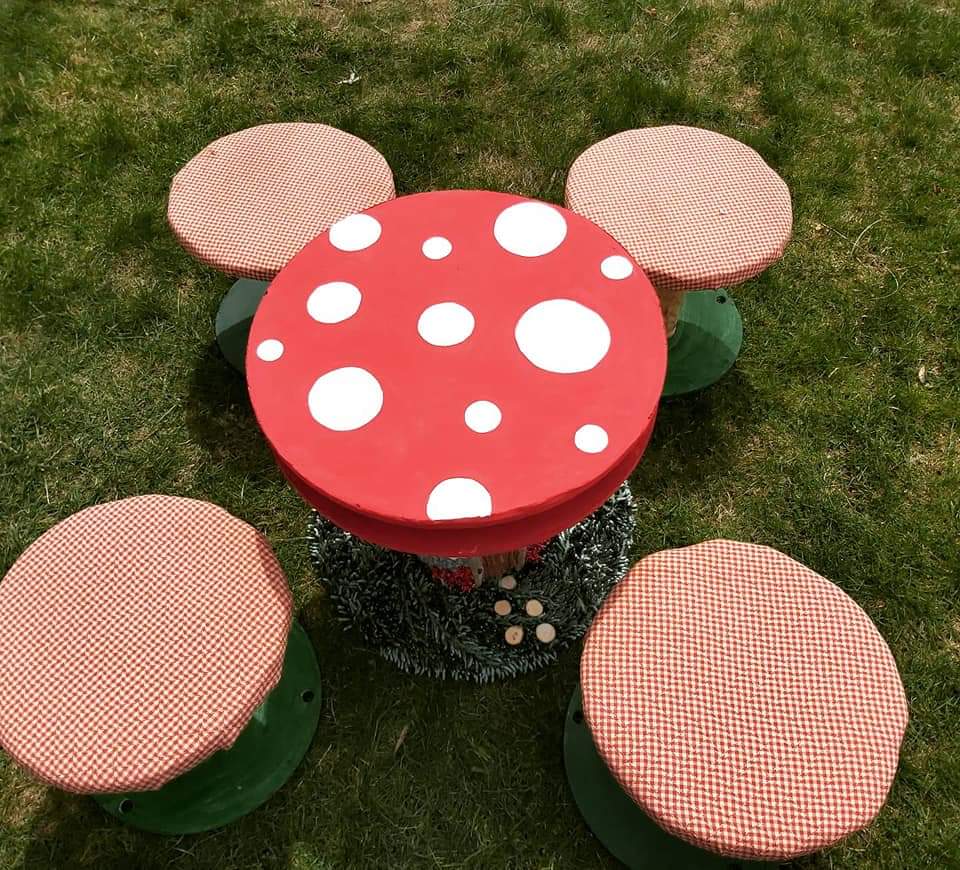 For the large toadstool, which I was super excited to create, I used red and white poster paint. I painted 3 coats of red first, then I drew circles using my compass once it had all dried. I then painted 3 coats of white onto the circles creating a toadstool effect! My boys and I went for a lovely walk to the beach and collected driftwood, and enjoyed a forest walk too where we
collected sticks. I used those to create the accents on the trunk and the cute little windows and door. I did buy a bathmat from the dollar store to make the grass. I just couldn't resist when I felt the texture and loved the idea of the kids using it for a sensory experience. I used craft popsicle sticks to make the fence around the base and gave it a cute little finish by adding flowers from my craft box.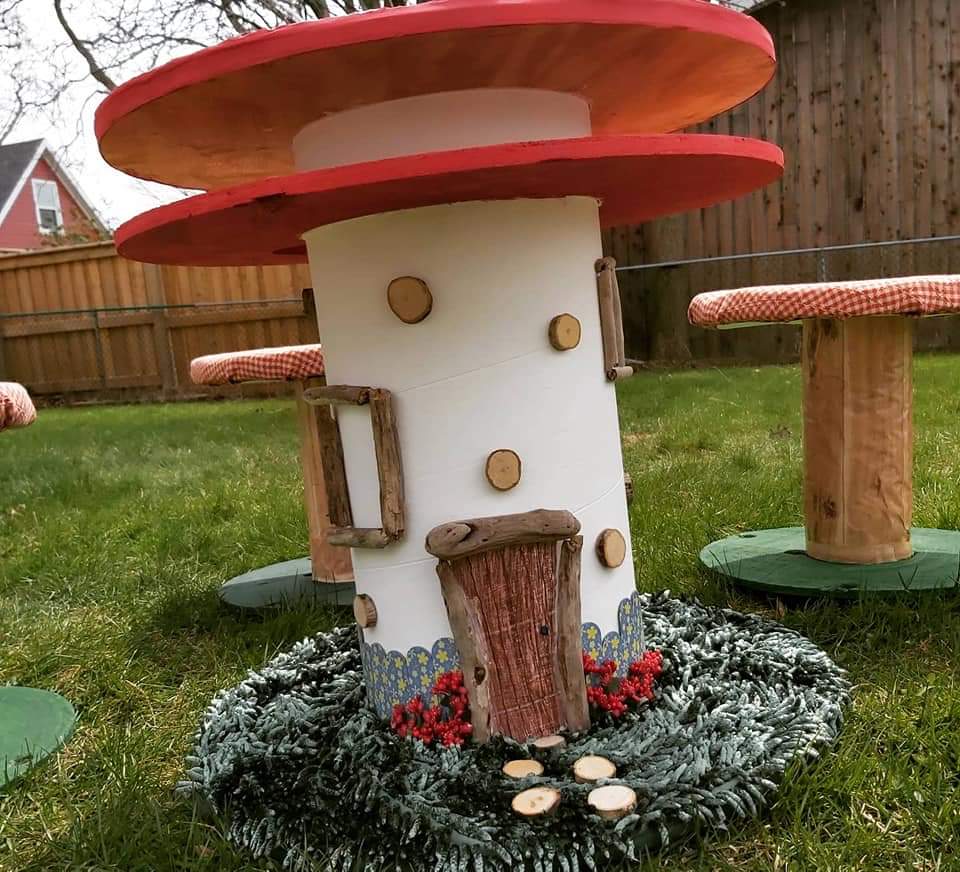 I loved creating this little set and can't wait to see them enjoying it in the playground.
I'm passionate about recycling, we have so much material being produced every day that takes up so many resources, and so many of our old items get thrown away and end up on landfill sites. I find it exciting to repurpose an old item making it feel like new again and giving it a new lease of life.

Kirsty Bowles
Kirstys creative crafts.
_______
Other articles you may enjoy: