So often when I tell people I shop for clothes second hand they will come up with blocks as to why they couldn't possibly do it too.
A big one is that they wouldn't be able to find a specific item second hand. Examples include:
"But I can only buy clothes that are suitable for a big bust"
"I'm short and need petite clothes which I can't find without going in a high street shop"
"There is never anything for plus sizes in charity shops"
Well, you will be glad to know I have your solution. As a girl who is 5ft nothing and a 34FF bust I KNOW these things can make sourcing second hand a little harder but there is a great way to get the items you know will fit and suit your body shape from the comfort of your own home. Ebay.
The things I always need are black clothes for work, I can get holes in a couple of pairs of trousers a year and while I have embraced mending, I know my trousers always need replaced at some point. For these moments I like to keep a spare pair ready in the wings as I know I might not easily find them in a day visiting the charity shops. I find these items using ebay alerts to save me constantly checking.
"But Emmy what if it doesn't fit?"
Well, to combat this problem I only set alerts for items I KNOW fit me. A perfect example is Marks and Spencer treggings in a size 14 short. They are so comfy for work and as I have worn so many pairs through the years I can buy confidently on ebay and know they will fit when they arrive. The hard bit is being patient and waiting for the perfect auction to bid on (I'm fussy, I want them in perfect condition to last me as long as possible).
To set up an alert – go to the app and type in what it is you are looking for. For my example this is "Size 14 Marks and Spencers black jeans". This search has thrown me up quite a few auctions but lets pretend it hasn't got the perfect pair I want. I would then click the heart icon on the top left to save my search.
When I have done this Ebay will let me decide if I want an alert for new auctions via email, via the app or both. I find the email alerts the easiest personally. You can set up multiple alerts for different items and you can tailor your search by setting the filter to your own requirements.
It was through this method I got my much loved Scamp and Dude pink leopard print jumper. It was a very specific item from a small brand so I knew it wouldn't be easy to find second hand and I definitely wasn't going to find it in my local charity shops.
The first few times I went on Ebay to search I would get the wrong colours or when it was the right colour it would be the wrong size. The search alert saved me time. It would email each time a new scamp and dude jumper in my size came up and I could just click to check the colour and condition to decide if I wanted to bid (I only got an email once every other week as not that many are listed). It was selling for much more than I expected but I am so pleased I got it and I would have been sad if shopping second hand had meant I missed out on buying something I really loved.
That's exactly why I am sharing this tip. I want you to know you won't be missing out or going without by shopping second hand. You will still be able to find the items you want and love and most of the time you will save a lot of money for opting for preloved fashion.
You might so enjoy checking out my blog on how we embraced a year without new clothes as a family here. And deffinately subscribe to the newsletter so you don't miss out on new blogs coming up on how to shop online during a lock down.
Feel free to share any of your favorite tips to source clothing second hand with me, I'm always interested in learning new ways to streamline the preloved shopping experience.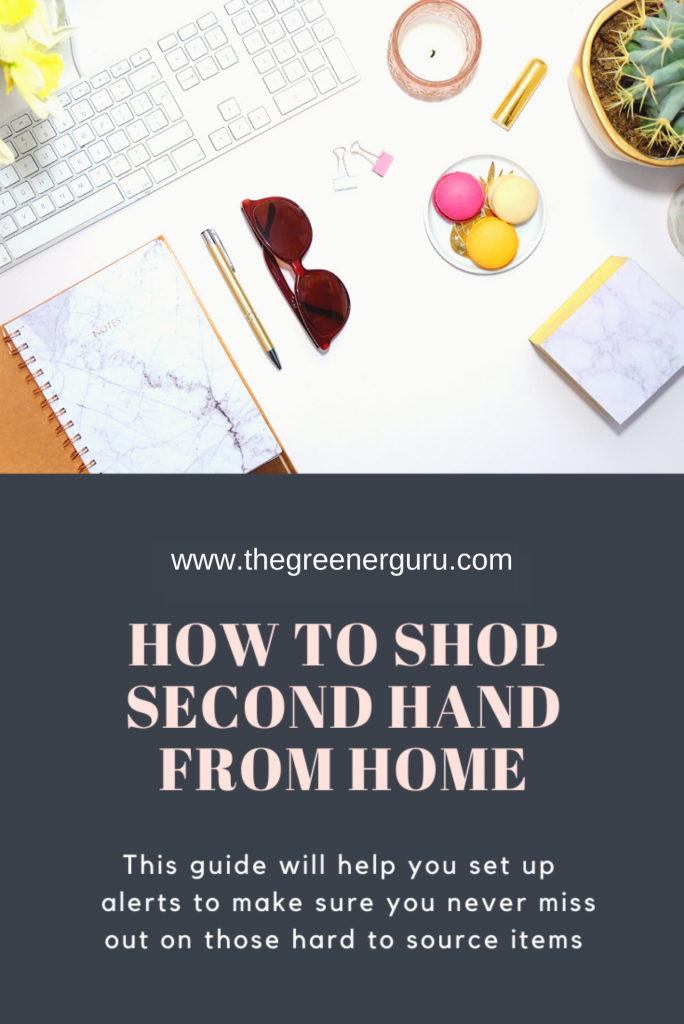 __________
Other articles you may enjoy: