Over on Instagram it is the start of slow fashion season and I have been making lists. Lists of what you ask? Well, lists for brands you can buy ethical fashion from.
Did you know over 2 billion pairs of jeans are produced each year? Imagine the environmental and human impact we could have by switching to buying jeans with ethics. But so many of you have told me you struggle to know where to buy jeans with a lower impact on the environment and a higher standard of ethics towards the whole production process. With that in mind, this week we had a focus on jeans and you guys seemed so relieved that there are fashion brands out there creating what you want to buy.
Prices ranged from £35 upwards and while some people still found this a bit steep in comparison to jeans you normally buy on the high street for £15, it is the price of ethics and ensuring fair treatment of both the workers and the environment. My advice if you find the price of ethical clothing more than you are able/want to spend is to start looking for second hand options.
Shopping second hand will lower your environmental impact and although the garment may not have been ethically made originally, you have extended it's life and kept it out of landfill. If you can find an ethical brand second hand then you have stuck gold! Places to check out for second hand include Ebay, Depop, Vinted and your good old local charity shop.
But let's get back to the main focus – brands producing and selling ethical jeans!
Starting with Thought clothing. Thought use Organic cotton for their jeans. This means no pesticides are used in the growth of the cotton which is better not just for the environment but for those working the farm land. Did you know over 1 million farm labourers are admitted to hospital with problems caused by pesticides. I think these jeans are my favorite for how they look.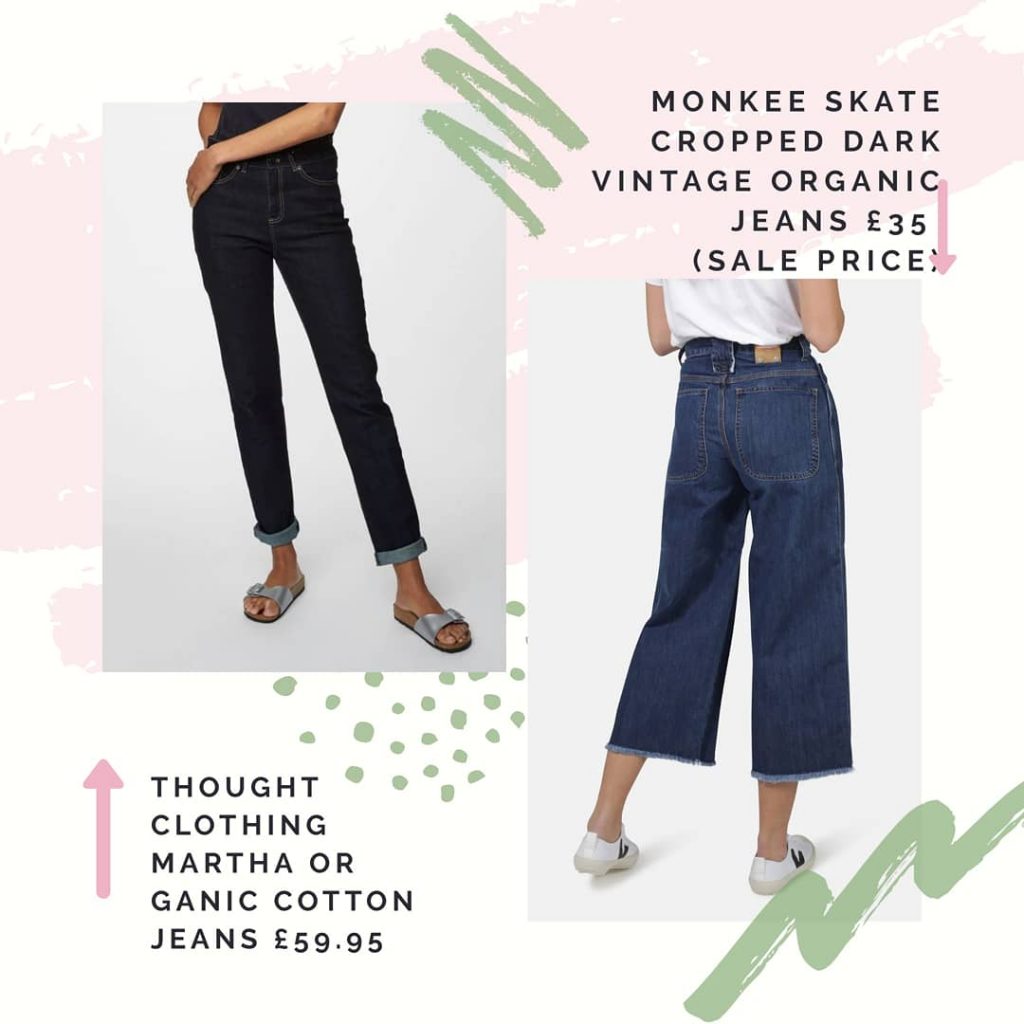 Monkee Genes were the firm favourite amongst my followers and it's easy to see why. They have a great variety of styles and offer length options. Amazing for folks like me who are on the shorter side and indeed any taller folk out there too. Again these products are made with Organic cotton. With jeans starting at £35 on the Komodo site they won't break the bank either.
HIUT are a little more on the pricey side with a starting price tag of £155. These jeans are made in Wales so we can be fairly sure the working practices and fair payment for garment makers are being taken well into account. The jeans below do not appear to be organic cotton but they do have organic ranges available.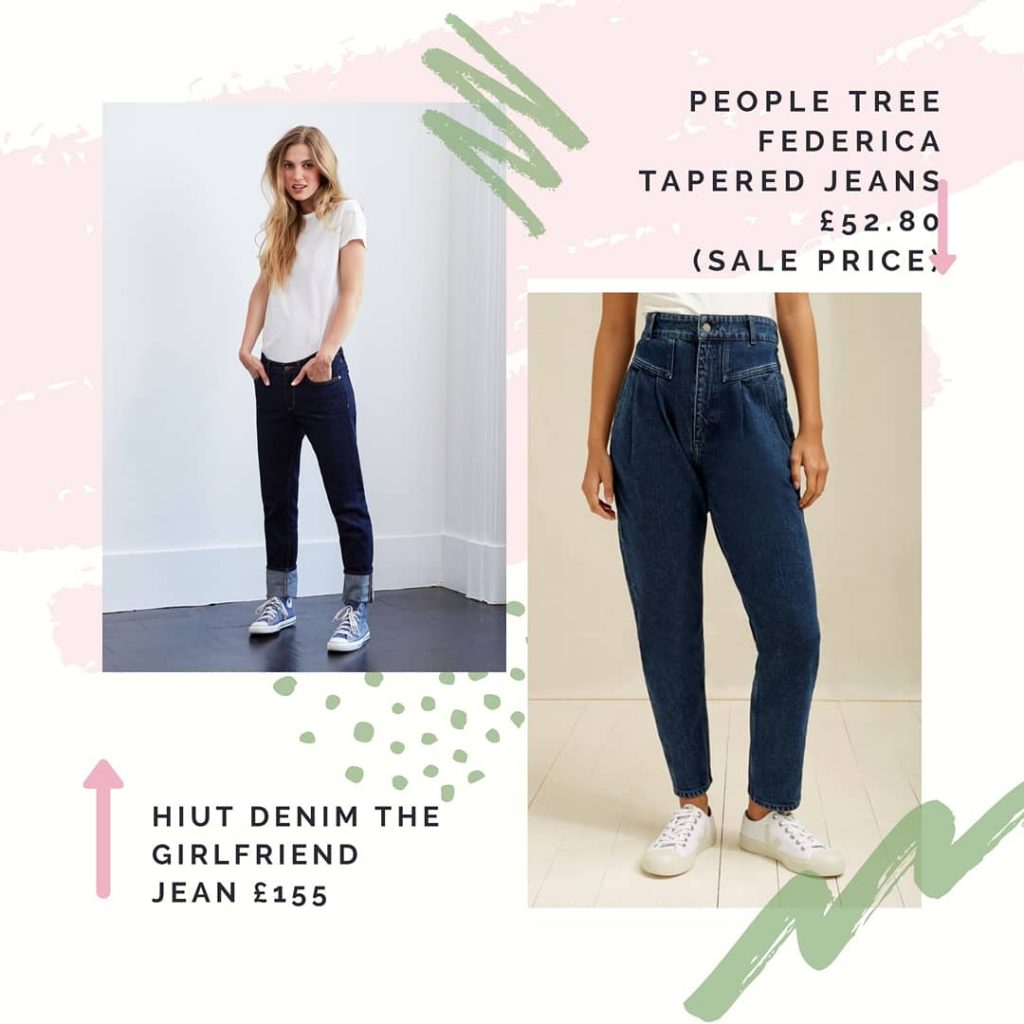 People Tree again use organic cotton for their denim and these jeans are currently in their sale bringing them down to £52.80. Full price jeans start at £95.
MUD are a brand I always see people raving about. These guys have a really interesting and ethical way of working as they keep their fashion circular! Isn't that the dream we want for all the brands we buy from? Better yet also they lease jeans to people to ensure their return to be recycled and used again. They even offer a free repair service. €119 may seem a bit steep but with the ethics and intentions behind this company I would say they are worth every penny.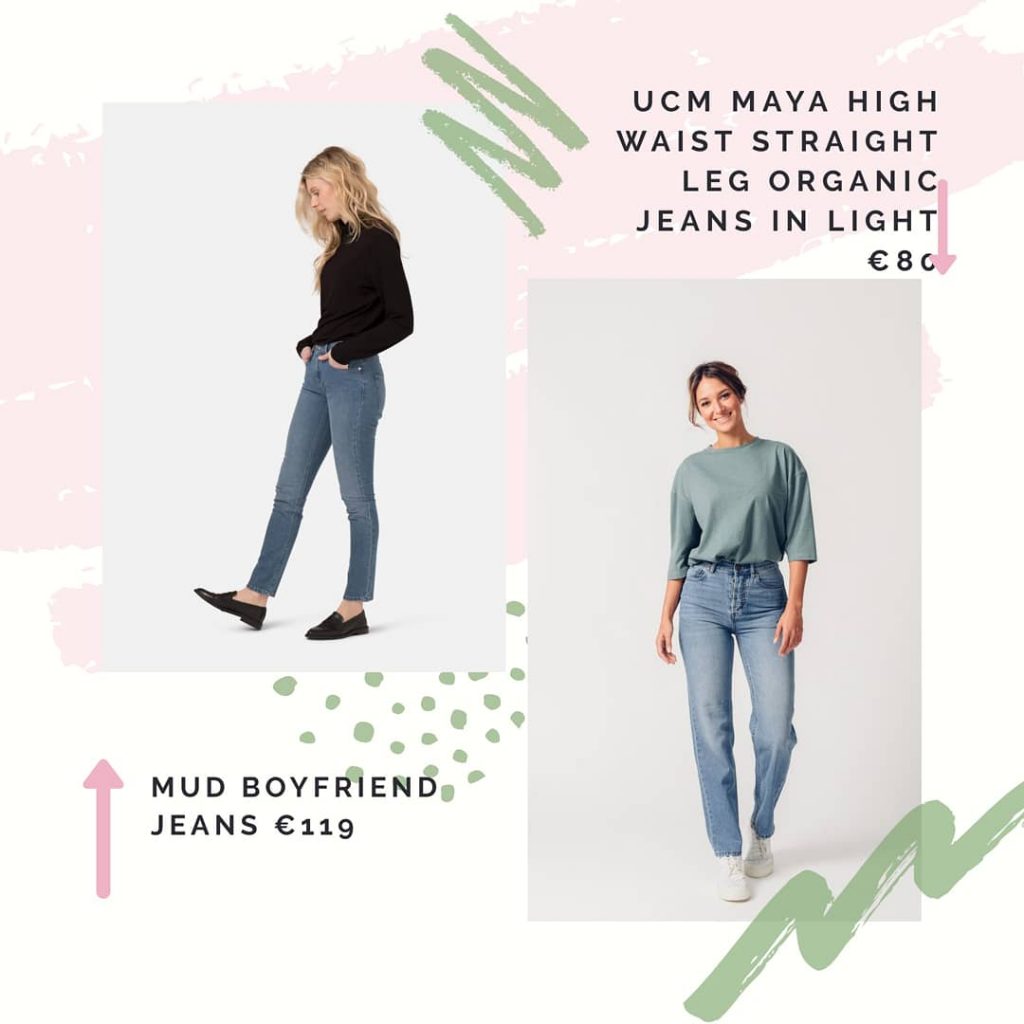 UCM (United Change Makers) were not on my radar at all until researching ethical jeans. They have been working on fashion from the 90's and are passionate about not just using ethical fabrics but sourcing labour ethically too. Their jeans are made in Indonesia with a team they feel share their passion and desire for cleaner fashion. €80 seems a reasonable price for a staple wardrobe item when it's made with such attention to detail.
High quality, perfectly cut jeans with French style – that's what Sezane is all about. They have an eco range made of organic cotton with prices from €95. I also enjoy that their jeans are shipped by road rather than air. They also use recycled packaging and an audited factory to make their jeans.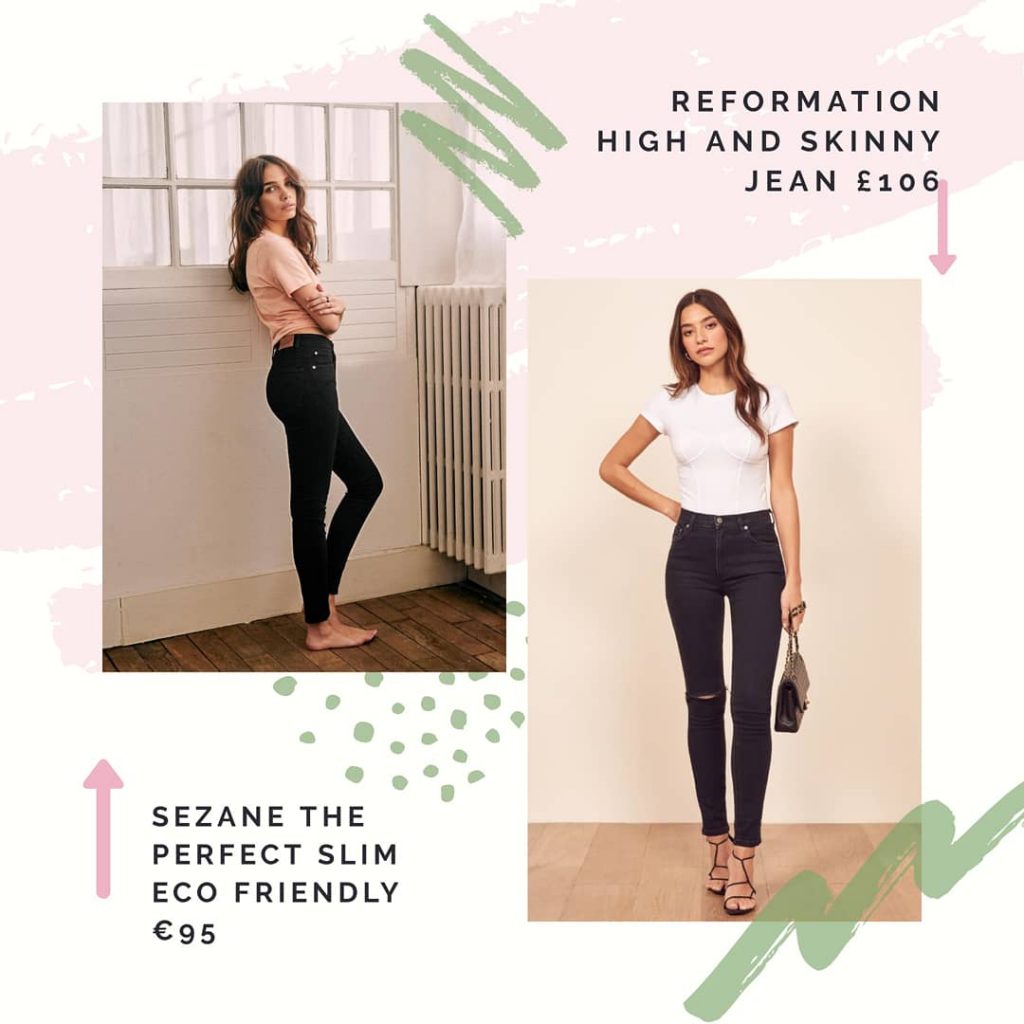 Reformation jeans are ethically made in Los Angeles and I love that their website tells you some information on the environmental impact of the specific pair of jeans you are looking to buy! They will travel quite a way to get to you but customs is included in the cost of £106.
And last but not least is Lucy and Yak. The jeans pictured at £55 however currently they have some on sale for £25 and full price jeans start at £50. The best feature of Lucy and Yak is their use of colour. They always have loads of options when it comes to colour and use low impact dyes on their organic fabrics. Each item they sell has a number sewn into the seam and if you go to their website this number will SHOW you who made your clothes! That is an unbelievably cool thing to be able to do and I love that they are giving the tailors the ability to be recognised and show us how proud they are of their work.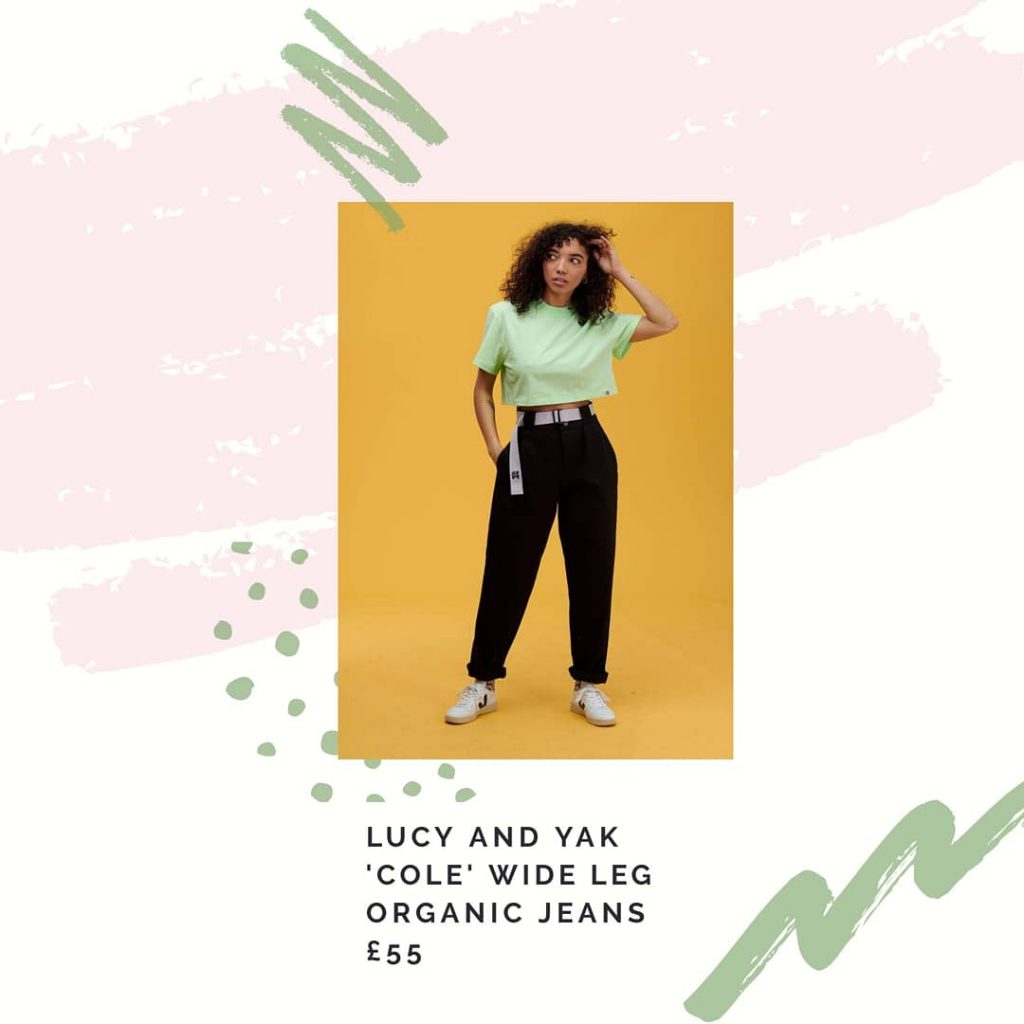 There is a post on ethical leggings over on the grid you can also check out but if there are any other fashion related topics you would like me to research for more info to save you time – shout!
__________
Other articles you may enjoy: